CONSTRUCTION SURVEY DRONES
At Dronefly, we provide you with drones that can reduce downtime and safety risks associated with construction site surveys. We have pre-existing construction survey solutions, but that doesn't mean you can't tailor fit it according to your needs and requirements. Want to learn more, complete our request for quote and proposal form and one of our solution specialist will get in touch with you.
---
CONSTRUCTION SURVEY SUGGESTED SOLUTIONS
You will find below our current and suggested construction survey drone kit. It's based on a DJI Matrice 600 Pro drone, one of the best models that you can get today because of its reliability and overall configurability to meet varying needs. If you prefer other drone platforms or a personalized construction survey aerial thermal kit, our team of drone experts will give you the best solution for your requirements.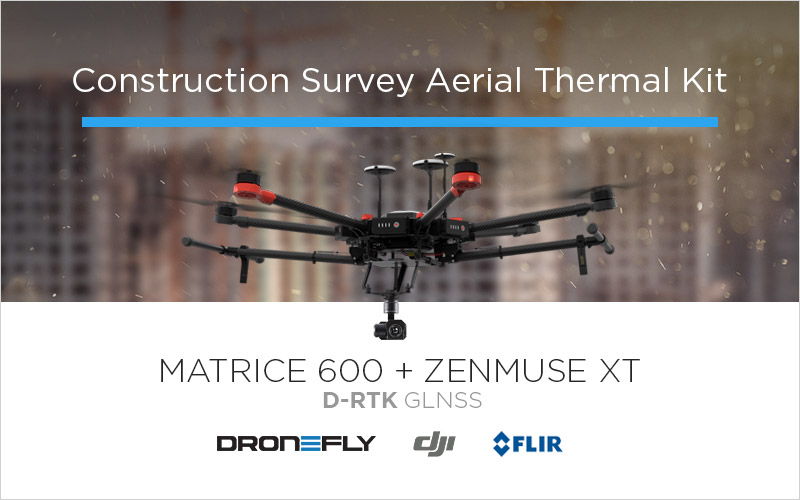 M600 PRO CONSTRUCTION SURVEY AERIAL THERMAL KIT
We've combined the Matrice 600 Pro with a Zenmuse XT, making it a more powerful and reliable platform to conduct site surveys.
Maintain full-control with the drone's Triple redundant GPS and IMU configuration
The triple redundant GPS and IMU system adds enhanced resistance against errors to maintain precise control and positioning over the craft at all times
Advanced Radiometry analysis using the DJI Zenmuse XT Thermal Camera
Expanded support for control of external sensors
For increased protection against magnetic interference found around large metal structures upgrade to the D-RTK GPS & Ground Station system
Optional Zoom Optics Add-on - Zenmuse Z3 (7x) or Zenmuse Z30 (30x)